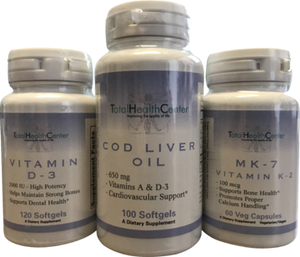 Vitamin D Support Pack
These products work synergistically to support the immune system and improve bone health.
Many people are aware of the importance of Vitamin D. Optimizing Vitamin d levels can enhance mineral absorption like calcium but without adequate vitamin K2 the calcium cannot get into the bone and can lead to calcification of soft tissues like that arteries. Optimizing Vitamin D can enhance the immune system the Vitamin A in cod liver oil works synergistically with the Vitamin D. 
For this reason Dr. Scott recommends this support pack for his patients.