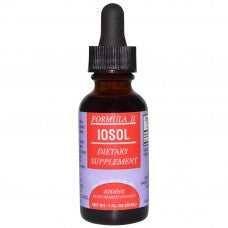 Iosol Iodine, 1 oz.
Why is our IOSOL Superior to other sources of iodine?
•
IOSOL
has over fifty-five years of clinical use.
•
IOSOL
is nontoxic and water-soluble for easy assimilation.
•
IOSOL
is rapidly and evenly absorbed in the body assuring excellent tissue penetration.
•Our special formula is an
ammonium
iodide and iodine for complete body assimilation and maximum results as a food supplement.
Ammonium iodine vs. sodium/ and or potassium iodine
The primary function of iodine is to raise the metabolism and restore the electrical balance for all the elements in the body.
Sodium/and or potassium iodine
Most iodine products on the market today are either sodium and/or potassium iodine. Sodium and/or potassium iodine binds anatomically stronger than with any other element, therefore, the process of digesting and assimilating this combination is very difficult, which can lead to toxic reactions.
In many cases, products that claim kelp, sea dulse, potassium and/or sodium iodine, contain little of the actual mineral. In fact, the iodine potency is so low it is undetectable in a laboratory test.
Ammonium iodide and iodine
The portion in
IOSOL

 
that is iodine,
43% is ammonium iodide and iodine,
57% is
"free iodine."

 
By the time the
IOSOL
enters the stomach, the ammonium separates from the iodide and the remainder becomes
100% is "free iodine"
which raises the metabolism and restores the electrical balance of the body.