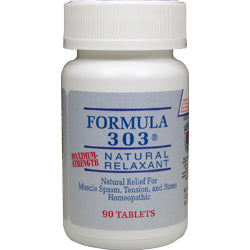 Formula 303, 90 Tablets
Formula 303

 

by

 

Dee Cee Labs

 

is

 

Made in the USA!
This is the Maximum Strength natural muscle relaxer that really works. We are dedicated to providing you with information about Dee Cee Labs Formula 303. This best selling natural muscle relaxant and tension reliever is manufactured by DC Labs and made right here in America.
It may help you with; insomnia, tension, anxiety, stress, muscle spasms, muscle aches, TMJ pain, back spasm, neck spasm and more! You have nothing to lose but spasm and tension.
Dee Cee Labs manufactures Formula 303 and is located in White House, Tennessee. They have been manufacturing nutritional supplements for over 50 years. Their manufacturing and packaging facility is registered with and is inspected by the FDA.